Mission Brief
Colonel Rick Flag Jr stalked across the runway. " Task Force X, ARGUS has been granted an opportunity, a rare duty." There's a pop of gum, and a giggle, " wot? He said doody. That's funny." Eyes narrow at her, but Flag continues. "We have managed to lure the most dangerous metahuman on the planet out of its lair. It is away from its home, its support network. It is lurking in Star City. Intelligence suggests that this metahuman has been responsible for the near destruction of the planet on at least 2 occasions, once mere weeks ago... We will not grant it a third." Flag, showing an uncommon degree of nervousness for the veteran special forces officer, swallows. "Given the unique... environment of operating in Star City, ARGUS has nominated a specialist to lead this mission." He swallows and a hulking brute of a man steps forward, his mask, with a single eye looking over the group. The voice speaks with an Australian accent, "do not mistake yourselves, he will be here. He..." The masked figure glances back at Flag, fighting his pride, his neverending rage. "Is not the mission. The metahuman is. But you kill 'im before I do, I'll kill you. The kid and I have history."
The engines of the ARGUS transport begin to burn flame hot. "Boarding in 5." As the group turns, a Japanese woman's shoulder is tapped. "I have an additional task for you," whispers Flag. "You will arrive via the sewers, arriving from beneath the engagement zone. Once you arrive, no matter what you see, Task Force X's mission must be accomplished." She nods, silently. He then turns, to bark at a woman, holding a comically oversized revolver. "You will be outflanking as well. Cut off their escape." Bells jingle as the masked figure nods, " Gotcha, yes sireee boss." She salutes, gun in her hand, it hits her head and... fires. Revealing a flag from the barrel, 'pop.' She picks it out, "oh geez, howdi that get there, I was looking all over for ya, little guy." The white painted face grins unsettling at Flag.
22:00 Star City
"Oi mate, it's good to be on a mission with another Aussie, we're show the yank 'ows its done, roit?" A single eye glares at the man, who has downed the third beer of his flight. The transport touches down and the 3 crew members step up to exit, the drunk leading the way... Not of his own volition.
An arrow fires, piercing through the can, pinning it to the armoured hull of the transport. "One warning. Turn around. This is my city and you are not welcome."
Unphased, the masked figure steps out of the transport, that single eye turning, turning to stare at the Emerald Archer. "How ya doing, kid? Missed me?"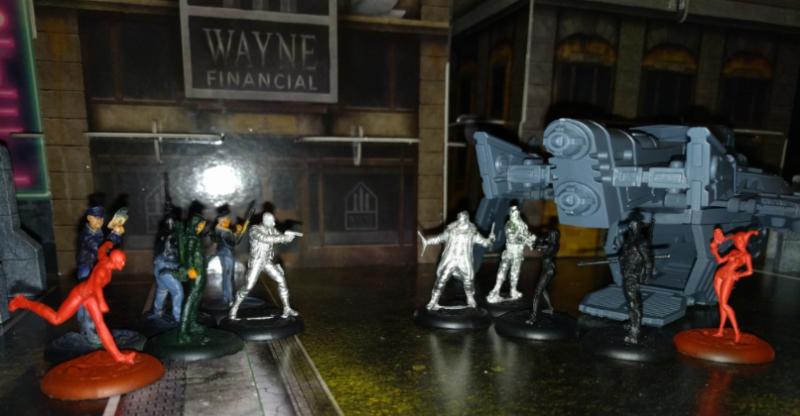 A red blur flashed next to the archer, "Hey, sorry I'm late. What's up...?" He turns round, "oh... Wait... is that the guy?" The Fastest Man alive doesn't even get to finish the thought, as he is confronted by a wall of smoke and a bang ringing in his ears.
"It's the target! The metahuman. Get to your positions!"
"Agent O'Connell, I'm afraid it's not going to be a quiet night. Just follow Spartan's lead and we'll all get out of this in one piece."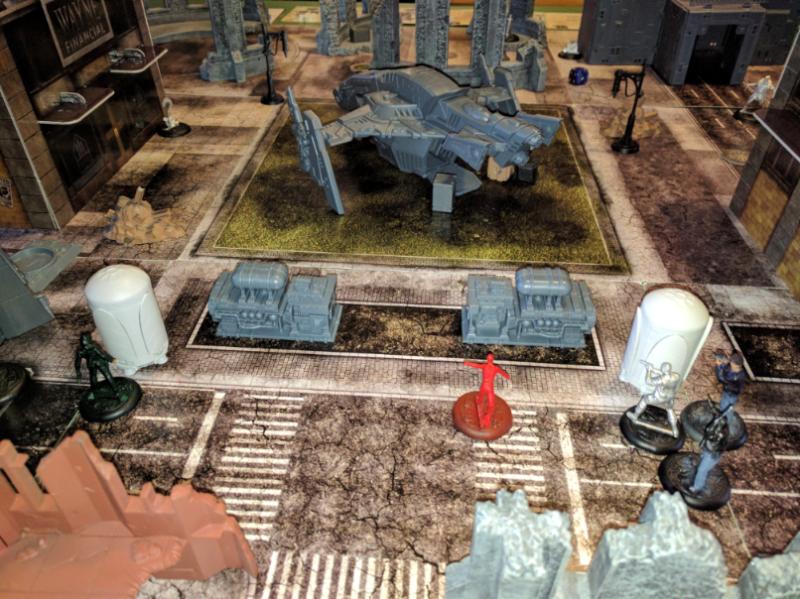 Rick Flag ducked down beside the hull of the transport. They were already here! How did they know? There's a hiss, a flare of pain in his shoulder. Rick Flag drops to his knees, stunned by the attack so early - Hadn't it been mere moments? No blood... Vest caught it... Lucky. But it ruined his shot.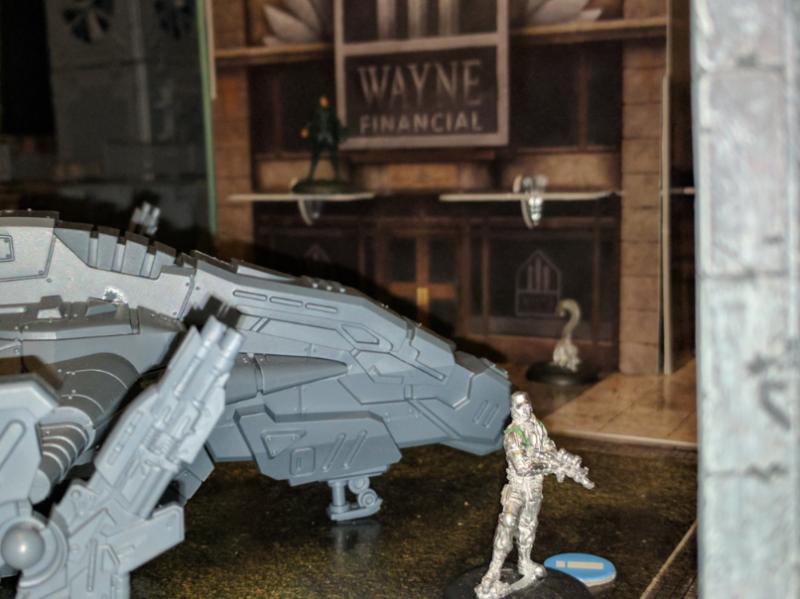 George 'Digger' Harkness looked around, back and forth... It's here somewhere... yes. A Metahuman power dampener. They had been seeded in the area before the battle, it's why they chose here. He just needs to keep it active long enough... Well, the science doesn't matter, it's just loot to him. As he dashes for it, bolts of fire arc through his back. "Fancy meeting you here. Feel like getting beat up in a new town?"
Rick Flag was pinned. - Police? Law Enforcement? Here? That's not supposed to be here... ARGUS was supposed to have paid them to look the other way. The officer, O'Connell, judging by his badge, races towards him, then trips, stumbling into the crates in front of him as a boomerang sails backwards, having impacted his head. "Hey, bucko, remember to tell your boss that."
Flag doesn't even get the opportunity to respond as 50,000 volts course through his body. "Rick. Flag. I suppose Waller's holding your leash now. You never could think for yourself, Lieutenant."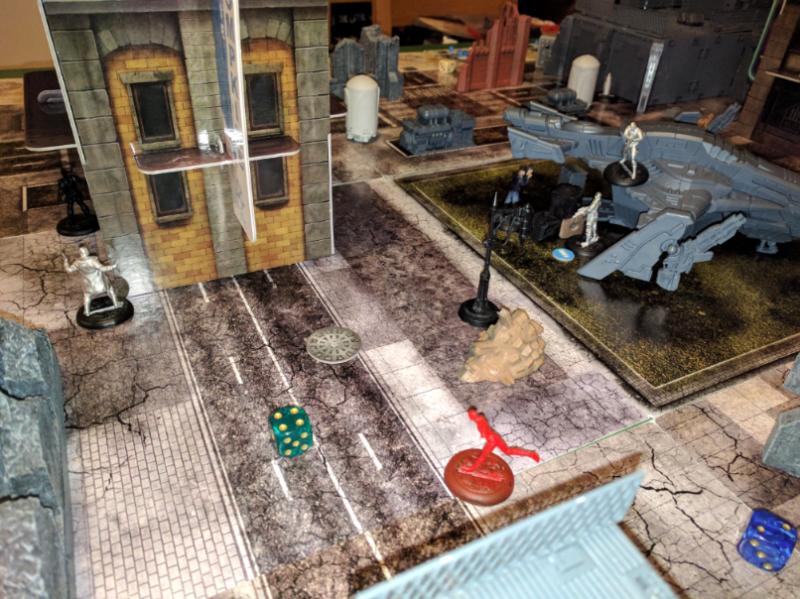 "It's Colonel." He turns, bringing his rifle up, targetting the officer. "We are agents of the Federal Government, you are aiding and abetting vigilantes and fugitives from justice." He fires, O'Connell drops, the irony completely lost on Flag as Harkness gives a thumbs up. Then Harkness' expression changes, eyes wide as energy slams into him, blasting him against a wall and knocking him down. Then, the red and yellow streak turns, heading towards him... There's a person in the streak. As he's looking, a blow hits him in the stomach, then the back, then the stomach. "I don't think we've been introduced. I'm The Flash."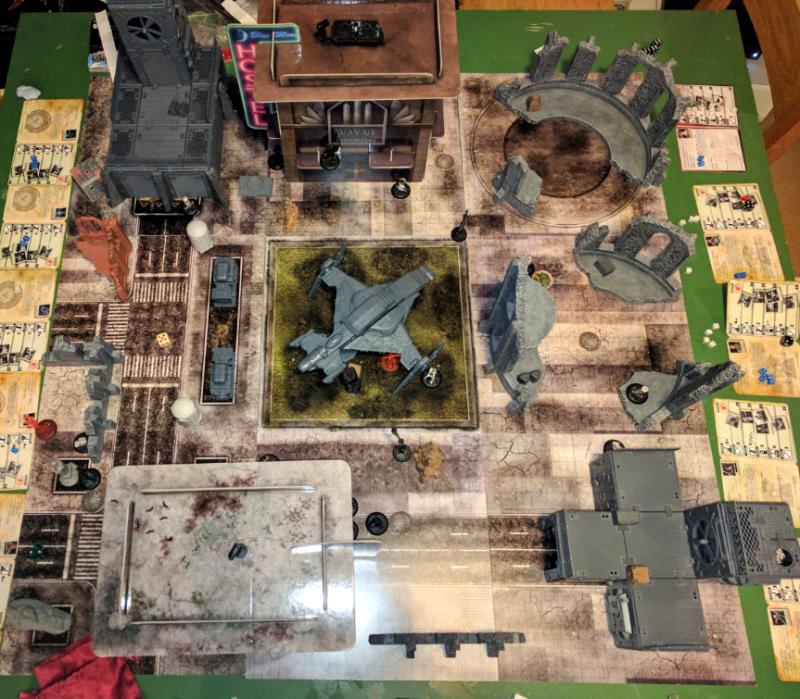 Racing round the corner, the Master Assassin fires a clip at the police officer, his shots going wide. It looks like the police had found another power dampener, alongside an ARGUS ammo cache. They were protecting it. Were... One, the female, makes a break for it. The other, a male, heavyset turns to look at him. Lip quivering... "S....s....slade Wilson.... You... you... you're under arrest." The poor fool... Yet, the police officer raises his flashlight, pointing it right at him, switching it on. "You think a little light is going to stop me?"
The Assassin stumbles backwards, looking down, two arrows protruding from his chest, their tips slick with red blood. A voice echoes from the darkness, "No, Slade, but I will."
And then, insult to injury, a voice pipes up from behind a wall. "So, like, uh, hey guys? What'd I miss? We winning?"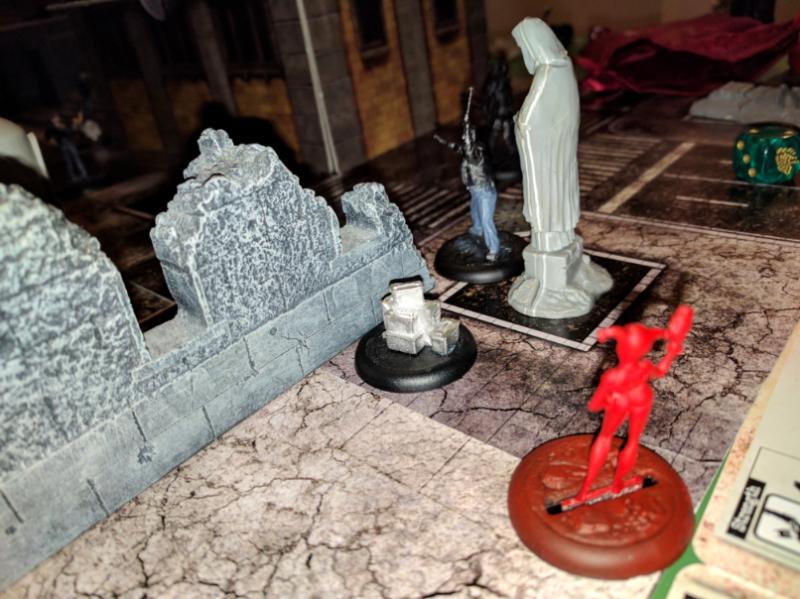 Flag looks around, hunting through the storm of lightning surrounding to him. The lightning has injured him more than the metahuman's punches. The Flash... it's certainly descriptive. He can't even get a clear shot at him... Then, the lightning fades and once again, Harkness is the focus of the metahuman's ire. That same energy that gives Flag his own wounds, hurtles into the Australian, slamming the thief into the wall once again, this time... unconscious.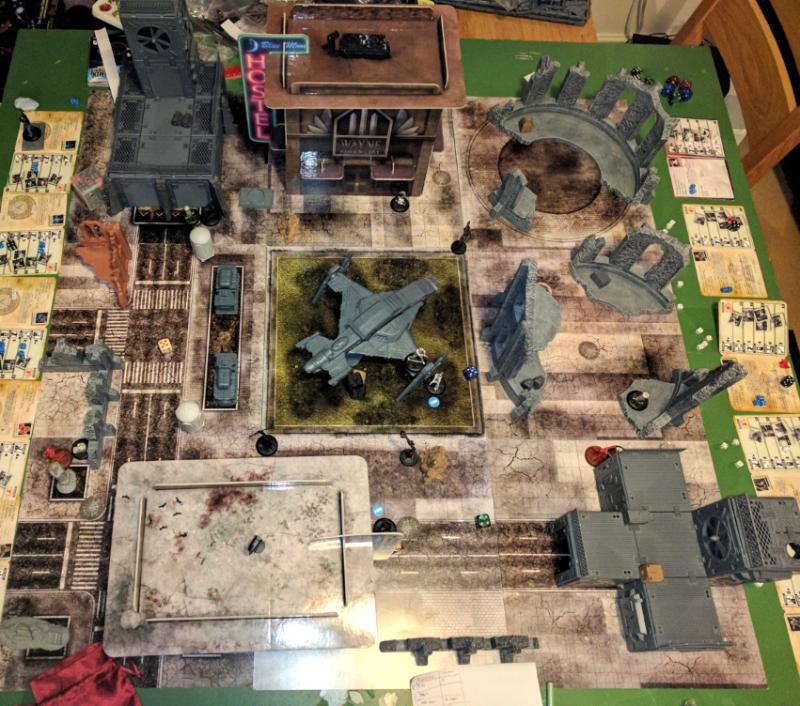 The distraction is costly. "Pretty lightshow. Forgot about me,
Lieutenant?
." As Flag turns, he looks up into a face, hidden behind a metal helmet, the taser once again pointing at him. "Stay out of our city. And leave our friends alone." Once again, 50,000 arcs surge into this body. Unlike last time, the armor doesn't help. Colonel Rick Flag falls to the ground, unconscious. "Overwatch, this is Spartan. One target down." The police officer, O'Connell wakens up, wounds bleeding from Flag's machine gun fire. And yet... He crawls forward, bloodied and broken to the injured form of George 'Digger' Harkness. Captain Boomerang. "You're nicked... 'bucko'." From his view on top of the ARGUS Transport, Spartan speaks just 3 words. Correction. 2 down. He then adds, "Zero casualties."
Sergeant John Diggle... spoke too soon. Slade Wilson. Deathstroke. The Terminator, disgusted that his quarry, the male officer, had escaped into the sewers, had turned his attention to the fleeing policewoman. "She'll have to do..." The preternaturally skilled assassin raced after her. Extending his staff, he slams it into the back of her legs as he reaches her, scooping her off of her feet, the staff spins in a wide arc. Before she even reaches the ground, the staff hits her once again in the solar plexus, knocking her unconscious in milliseconds after the initial strike. "Not even worth the effort to kill..."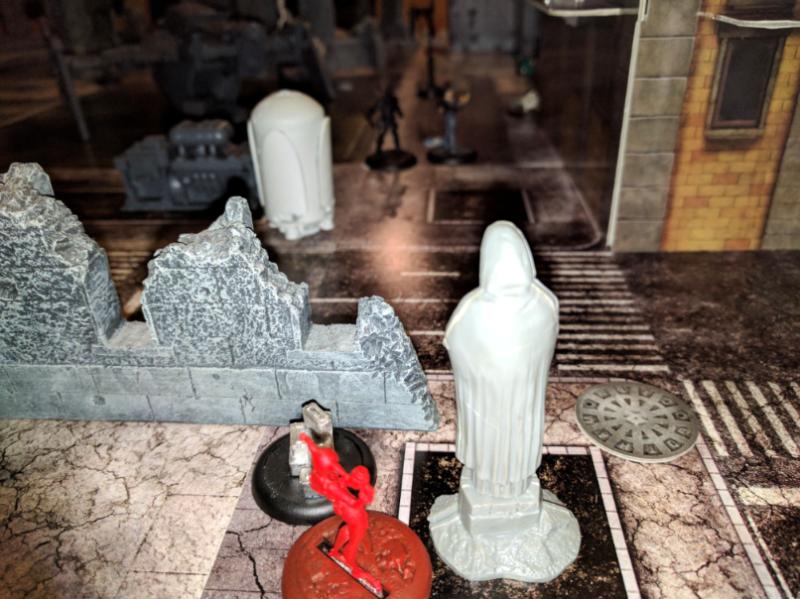 He hears a strange sound from behind hmm... A raspberry blowing, "Hah, ya didn't like that, didya?" The screeching laughter echoes as Deathstroke spies his next target... The metahuman.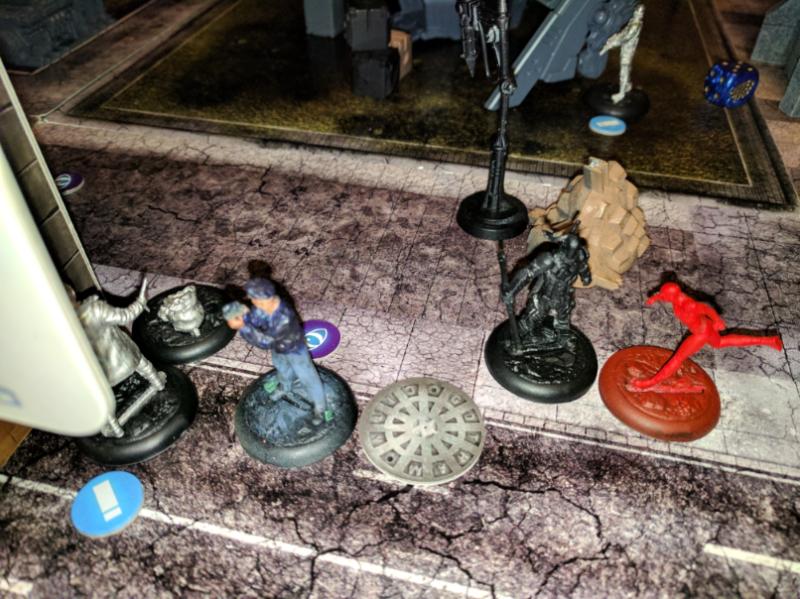 The Armoured Giant barrels towards Barry, moving far faster than someone in that much armour really should... But... Not as fast as The Flash. Blow after blow from the reinforced staff hammers down on the Scarlet Speedster, only through his sheer speed and reaction times can Barry survive the sheer fury of the assault, barely, just barely managing to block every strike. Barry was under no delusions though... He got lucky. Eventually Deathstroke would find a pattern, do something different... "4'O'Clock, clear some room."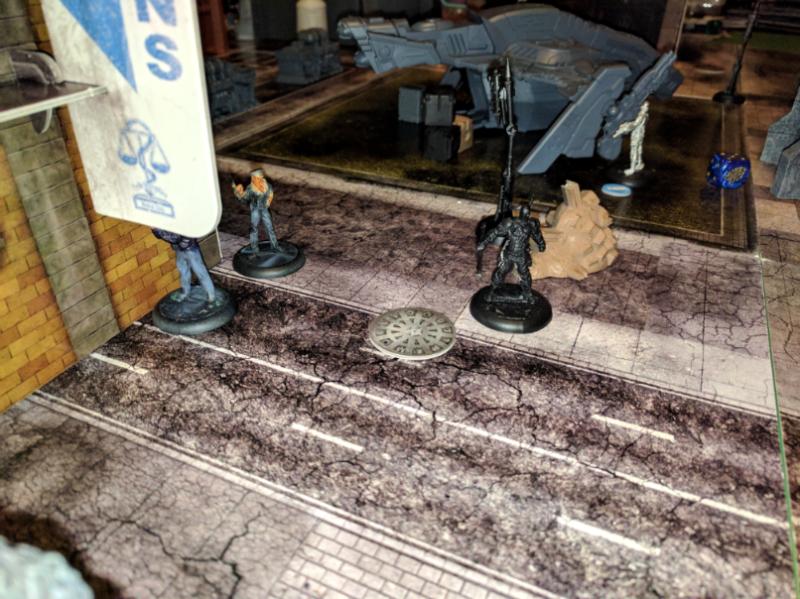 The metahuman ran... he actually ran! Retreated, from him Like a coward! Deathstroke glares round. The officer, the woman, the one he let live. She was back on her feet... Impressive, she had spirit after all. Flag, was still unconscious. He looks over to The Flash, he had ran to the Ammo cache. "Nice moves, but you can't stop me."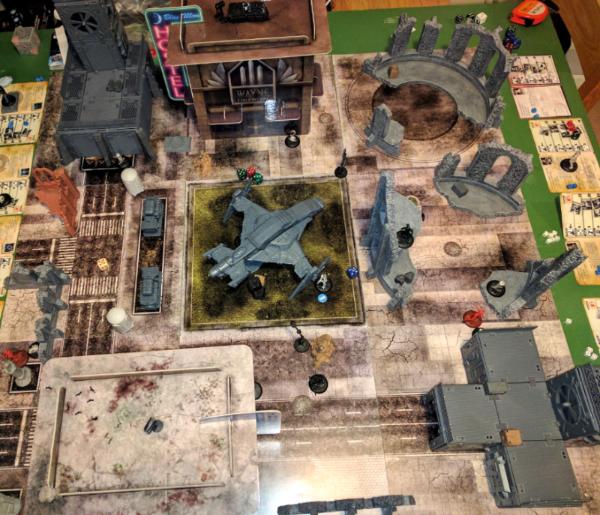 The voice, distorted an blurred, echoes. "No, you're right. I can't As he says that, he races forward once again, stopping short as arcs of lighting blast from his hands, arching through Deathstroke's body. He feels his armor plates charring, burning... "Not alone." Slade's side is rocked by the impact of bullets. He falls to his knees. "None of us can. But, we're not alone." He stands, glaring around, calculating his options... The 2 police officers, he could kill them, before they could even react but... What would that gain him? Two heavy impacts hit him. His chestpiece falls, crumpled, ruined. "We stand together."
Deathstroke drops his staff... His sword... He surrenders. "Next time, kid. Next time."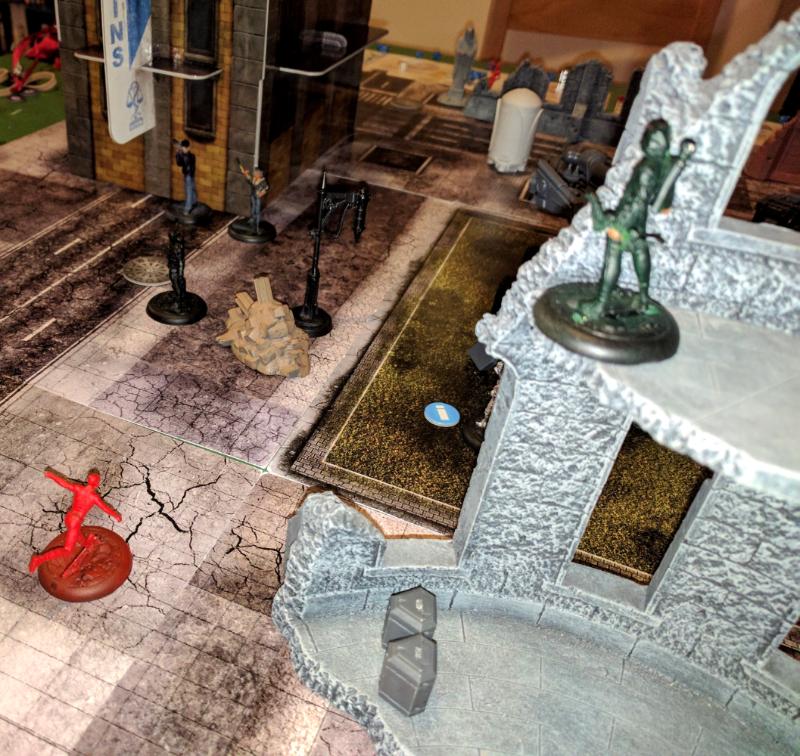 Epilogue
Katana trudged through the sewers. She could hear the fighting above her, the sounds of machine gun fire. Why wasn't she there, why wasn't she part of this fight? Upon reaching her mark, she somersaulted through the open manhole, to catch a glimpse of a green hood above. Oliver... why was he here? Was he here to help? She heard Flag shouting, abandoning her mission as she raced to aid him to see... She couldn't believe it... Machine Gun fire, from Flags weapon, hitting a police officer? "We are agents of the Federal Government, you are aiding and abetting vigilantes and fugitives from justice." The police officer drops, still breathing... Barely.
She sees a familiar red and yellow streak... The metahuman... Central City... It couldn't be? The Flash?! They were here for The Flash... She didn't sign up for this.
Harleen Quinzel stretches, yawning. The fighting had died down... Noone had come to check on her. That's fine... She could do with a nap and she was doing her job - "Guard the power dampener.". Well, she's guarding the power dampener and it's B.O.R.I.N.G.
She's awoken from her reverie by the sound of jet engines firing... As the ARGUS Transport rises to the air!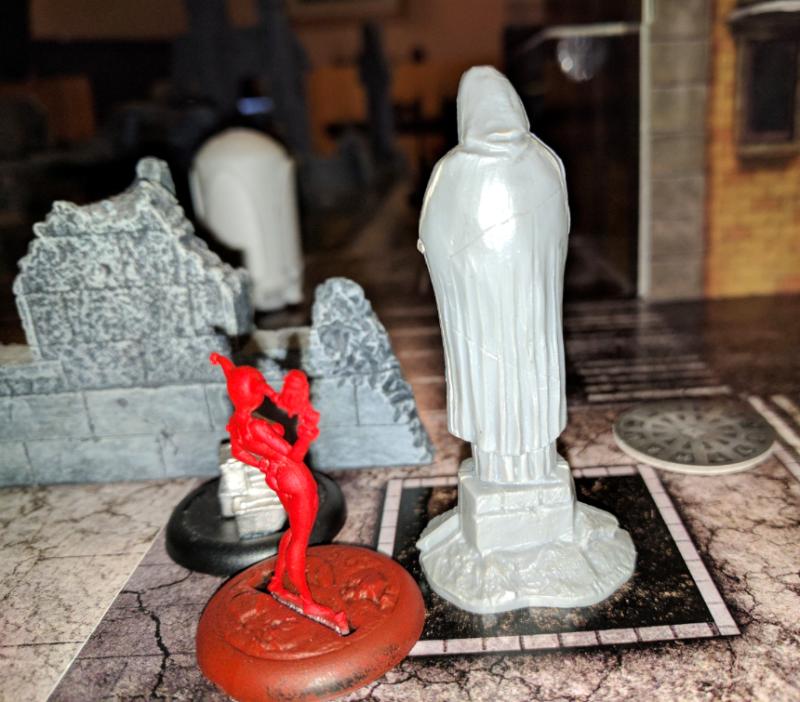 Cold Water splashes on Rick Flags face as he startles awake. He tries to stand but feels the cold touch of steel against his neck. "I wouldn't move if I were you... All the Soultaker needs is a drop of blood... Now you and I are going to have a little chat about trust..."